Heraeus™ Pico™ 21 Microcentrifuge Heraeus Pico 21 Centrifuge,...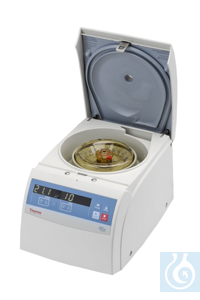 Afbeelding kan van origineel afwijken.
Bestel-nr.: 75002415
Prijs op aanvraag
Voor 1 stuk(s)
Heraeus™ Pico™ 21 Microcentrifuge
Support micro-volume protocols such as nucleic acid or protein lysate preparation and PCR reaction set-up  all in a remarkably small footprint with Thermo Scientific Heraeus Pico 21 microcentrifuges. Choose between 7 lightweight microcentrifuge rotors, designed to provide acceleration up to 21,100xg in as little as 12 seconds.
Support your micro-volume separation needs with:
Exceptional acceleration of up to 21,000xg in as little as 12 seconds.
Choose from 7 optional microcentrifuge rotors to find the ideal fit for your application:

Outstanding corrosion resistance with lightweight engineered polymer rotors.
Standard rotor runs 24 microcentrifuge tubes in a single row, from 1.5 to 2.0 mL tubes to mini-preps and spin columns.
Ergonomic one-click rotor opening and closing, as well as transparent design for added safety and convenience with Thermo Scientific ClickSeal biocontainment lids.
Eliminate the need for adapters with unique dual row rotor.

Simplify operation with intuitive controls, easy-to-read displays and fast one-click centrifuge lid closure.
Sleek, lightweight, space-saving design.
Durable and easy to clean and maintain.
Quiet performance promotes a safe, stress-free environment.
Conforms to the latest clinical and safety standards, including 98/79/EC In Vitro Diagnostic Directive.
Capacity: 24 x 1.5/2mL
Max. Speed: 14,800rpm
Max. RCF: 21,100 x g
Noise Level: 56dbA
Temperature Range: Ambient temperature
Certifications/Compliance: CSA, CE, IVD
Type: Benchtop Centrifuge
Includes: 24 x 1.5/2.0mL rotor with ClickSeal biocontainment lid
Description: Heraeus Pico 21 Centrifuge, Ventilated
Electrical Requirements: 230V 50/60Hz
Warranty: 2 years
Refrigerated: No
Run Time: 1 to 99min (1min increments); HOLD
Standards: IEC 61010-1, IEC 61010-2-020 (refer to manual for more details)
Product Line: Thermo Scientific Heraeus
Dimensions (HWD): 8.9 x 9.6 x 13.8in. (22.5 x 24.3 x 35.2cm)
meer
(-) Technische informatie:
Netto gewicht:
23,1 kg