CRVpro 6 basic package with oil mist, separator, 6 m³/h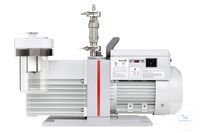 Afbeelding kan van origineel afwijken.
Bestel-nr.: 330072
2.595,00 €
Voor 1 Set
The robust vacuum pump CRVpro 6 belongs to the new high-performance two-stage rotary vane pumps generation of Welch. The pump impresses with its long service life, absolute reliability and its low maintenance requirements.  The CRVpro 6 is the perfect partner for freeze dryers, vacuum concentrators, as well as industrial applications. This package solution consists of a CRVpro 6 rotary vane pump with all accessories for the connection to e.g. a freeze dryer. Delivery scope: CRVpro 6 pump with oil, oil mist separator AKD 16, 2-way valve, hose connector, vacuum hose (1.5m), oil drain kit.
meer
(-) Technische informatie:
Benoeming producttype:
Komplettpaket Basic CRVpro 6
Ultimate total pressure DIN 28432:
2x10^-3 mbar
Maximaal pompvolume:
85 l/min
Vermogensopname:
370 W
Beschermingsklasse:
IP44
Spanningsbron:
115 V AC
Spanningsbron:
230 V AC
Netto gewicht:
26 kg
Artikel-nr:

330072

Trefwoordlijst alfabetisch:

Draaischijvenpomp

Geldigheid:

31.12.2021

Laatste update:

31.12.2020