neodisher LaboClean FT - 12,00 KG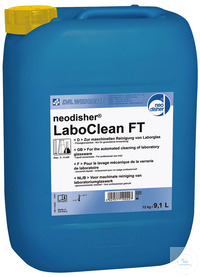 Afbeelding kan van origineel afwijken.
dangerous substance
Bestel-nr.: 410030
Prijs op aanvraag
Voor 1 stuk(s)
Alkaline detergent – liquid concentrate –
With oxidising effect, free of surfactants
Especially suitable for the residue-free cleaning of glassware for cell and tissue cultures, pharmacy glass bottles and
infusion flasks as well as glassware for microbiology and nuclear medicine. Removes residues of culture media, residues
of cell and tissue cultures, blood, proteins, radioactive contamination as well as other organic residues.
meer
(-) Technische informatie:
Geregistreerd handelsmerk:
neodisher®
(-) Veiligheidsvoorschriften:
GHS Nummer:
GHS05
GHS Nummer:
GHS07
Signaalwoord:
Danger
H-zinnen:
H290,H314,H400,H411
P-zinnen:
P273,P280,P303+P361+P353,P305+P351+P338,P310
UN-nummer:
1719